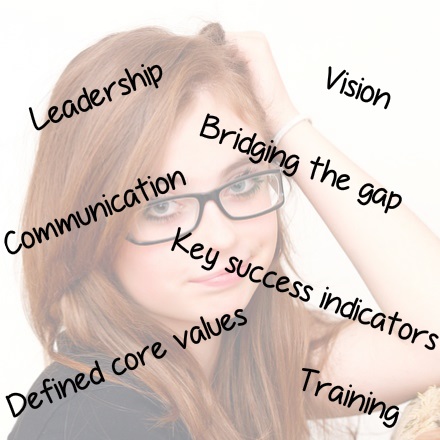 In any company, it is important that you give your staff what they need in order to be successful. For your business to grow and improve, employees need to have a clear cut vision and direction of which way they need to go.
Project Management And Resource Coordination Challenges
Do you have processes for project management in place? If so, are the processes being followed? It is time to evaluate this area of the business.
* When a new process is established, is it captured and written down?
* Do you review the processes regularly?
* If you have processes in place, are they working?
* Do you have a project management template?
You need to identify key success indicators to determine if a process is working. If it is not working, it needs to be re-evaluated.
Leadership And Staff Communication Gap
It is very important that the leadership communicates the vision and mission of the organization to the employees. Bridging this gap is key in building a successful business.
Here are a few things to ask yourself:
* Is your mission statement written down for the employees to see?
* Do you have well defined core values?
* Do you have a definitive communication plan for getting out information?
* Are your employees held to performance measures?
* Are one-on-ones being conducted between managers and employees?
Staff communication should be high on the priority list if you want to see your business succeed.
New Staff Orientation
When new staff members come on board, orientations should not be glossed over. Many companies throw new employees to the wolves and expect them to figure it out.
* Figure out what new staff members need to know.
* Give a budget to orientation so it will be focused on.
* Consider going over the history of the company with new staff.
* Will the CEO of the business be part of the program?
* How will all managers become involved in the process?
Orientation is a new employee's first impression of the culture of the company. It is important that this step is not blown through.
Staff Training
Once you have staff on board, it is just as important to ensure they receive proper training. There needs to be a budget in place to ensure training takes places.
There are things that need to be considered when putting together a good program. First, you need to know what each employee needs to learn and why. If you know what they need to learn, it will make it easier to get the programs in place.
Also, when preparing programs, you need to make certain they address both skill training as well as training on critical aspects of the company.
When staff has the resources and training they need to be successful in the job, the business can grow.
We would love to hear your comments! Please give us your thoughts and let us know if you need any help improving your business strategy.
Would you like a free consultation to see how we can help you be more successful? Contact us right now.